Vulnerability Scanning vs. Penetration Testing
When you are experiencing noticeable weaknesses in your network's security posture, penetration testing, and vulnerability analyses are the first assessments we'll conduct on your system. With us as your
Managed IT Service Provider
, you'll always have the right
Managed IT Services
and
IT Security Services
to guarantee you access to these useful evaluation tactics. Now you may be wondering what these concepts are. IT vulnerability testing occurs when hidden weaknesses in your network are identified and prioritized. You may be wondering "what's the difference between vulnerability assessment and penetration testing?". So, let's touch on vulnerability assessments vs penetration testing. These examination methods differ in many aspects, including reporting methods, study frequencies, and general values.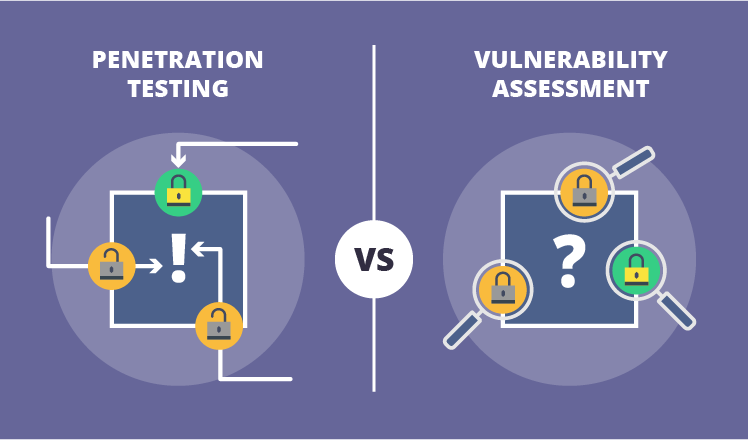 Vulnerability Scanning vs. Penetration Testing.
To give you a better idea of the concept of pen testing vs vulnerability scanning, we've listed each of their key characteristics below:
Vulnerability Scan.

Prevalence. These analyses generally happen quarterly or after new equipment and programs become a part of your network.
Reporting methods. The reports created by these quarterly studies enable your IT team and other crucial management professionals to see quarterly changes and hidden system weaknesses.
General scope. This assessment's main priority is to find software frailties that are easily exploitable.
Conducted by. Normally, it is conducted by in-house or outsourced IT teams using substantiated credentials. However, it does not require a high skill level and may be carried out by a novice user.
Usefulness. The most favorable attribute of this form of analysis is its ability to find and report equipment and software that could be easily tampered with.

Penetration Inspection.

Prevalence. This analysis method is utilized once or twice annually. If your internet-facing equipment undergoes serious reconstruction of any type, it calls for additional penetration exams.
Reporting methods. Once one of these studies takes place, you'll be presented with precise information about data compromisations within your system.
General scope. Penetration exams are designed to uncover hidden and exploitable weaknesses within your system and software processes.
Conducted by. Unlike fragility analyses, this method must be implemented by a highly trained professional. It is usually carried out by a third-party resource, like Klik Solutions, so that outside resources are ready when needed.
Usefulness. The direct purpose of this study is to identify and reduce weaknesses in the entirety of your infrastructure.
Now that you know the general scope and process of each assessment, it's time to discuss the concept of intrusion testing vs penetration testing.
How to Decide Which One is Right for You.
As mentioned previously, the key differences between a penetration test vs a vulnerability assessment are their reports, values, and scope. However, they contrast in many more ways than that. For example, one can be utilized by a novice user, the other requires an experienced professional. Not to mention, they have pretty dissimilar intentions for your system. So, when you think about whether you need security testing vs penetration testing it comes down to which one suits your needs most.
Vulnerability scans are right for you when…
If you're experiencing these difficulties and budget, its time to invest in a fragility scan:
In need of quarterly studies. If you don't have the budget for other regular inspection services, these scans can offer you the coverage and cybersecurity awareness you need in just 1-3 hour quarterly evaluations.
Require lower-budget solutions. Because these exams can be run by inexperienced users, they are generally easier to budget than penetration features.
Have issues maintaining your compliance standards. Many compliance providers require quarterly fragility scans. So, it may be the answer to your unavoidable compliance issues.
Large changes have been made to your technology and applications. As a key seeker of easily exploitable tool and program weaknesses, this is your best bet at finding possible outside hindrances to your server.
Gap analyses with unfavorable findings. If your gap analyses are coming up with results you'd rather not see, finding the weaknesses in your server is the most proactive first resolution step.
Penetration exams are necessary for you if…
If you need:
Annual analyses. In-depth yearly scans that uncover weaknesses in the entirety of your system.
Advanced system examination. Methods that will leave you with all the data you need to improve your overall security posture.
Third-party resources. Grade-a outsourced technology, expertise, and information technology knowledge.
Then call us today at 888-959-1196. We'll get you the solutions you need at a price you can afford.